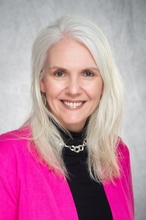 To say I'm honored, humbled, appreciative, grateful, and super excited for the opportunity to be your staff council president is an understatement. I have been a proud staff member of the University of Iowa for nearly 23 years and continue to be amazed by the people I see around me who day-in and day-out show dedication, commitment and passion to this place we call "work". It's clear staff have a tremendous impact on the success of the University of Iowa and as staff council president I hope to continue the efforts of past presidents to prioritize the recognition and acknowledgement of the great work and impact that staff make on the UI. Not only do I hope to identify and showcase staff that are going above and beyond in their work here, but in the unique contributions that staff make beyond the walls of our great institution. We all know a staff member that does amazing things both at work and outside of work. Let's celebrate our colleagues! Nominate them for the Staff Awards or I.O.W.A (Improving our Workplace Awards). Share their name and unique or above-and-beyond contributions with me so we can consider highlighting them in our staff council newsletter or sharing their story at a staff council meeting. Learn more about staff awards here: https://staff-council.uiowa.edu/about-staff-council/staff-council-awards. 
As we navigate a new normal after such a challenging couple of years with the pandemic, I have often heard concern and interest in staff well-being and in re-engaging staff post pandemic whether fully in-person, remote or in a hybrid work setting. Therefore, I am prioritizing these areas of staff well-being and staff engagement during my tenure as president. I'm excited for staff council to work closely with the new UI well-being collaborative to address staff mental health, resiliency and our overall well-being. Secondly, I look to identify ways we can bring awareness of staff council initiatives, efforts and impact to the broader university and consider ways to engage more staff in the life of the institution be it through recognition as I mentioned earlier, or through outreach or involvement in our institution or community.  
I look forward to serving as your Staff Council President in the coming year and am open to ideas, feedback and input from staff. Feel free to email me at Jackie-kleppe@uiowa.edu, or call me at 319-384-3025. Together, our advocacy for staff can help lead to positive changes and experiences at The University of Iowa.  
 
Jackie Kleppe
UI Staff Council President