Braving the Cold.  On a Bicycle!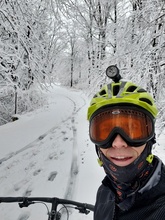 When many of the most determined cyclists park their bikes for the winter, Duane Staskal is still riding.  Duane has been cycling recreationally since 1992 and has also been commuting to work by bike since joining the University of Iowa in 2007. Winter is no different. 
"I try to take a bike over a car whenever possible," Duane says. "I think some people question whether or not I actually have a driver's license." 
As the Data, Analytics, & Insights Lead in the ITS-Administrative Information System, Duane leads a team of analysts supporting the University's enterprise level data and analysis needs with a focus on data access, analysis and reporting. 
During winter, he normally rides on an older Schwinn mountain bike that he converted to single speed to limit damage to components from harsh conditions. If there's heavy snow, he will ride a fat tire bike to make the commute more enjoyable.  
Duane's commute is about 3 miles or 15 minutes door-to-door, and the cold is not as bad as people imagine, he says. 
"Everyone thinks that it must be really cold but actually it isn't too bad," Duane says. "You start generating heat as you pedal right away, which actually seems better than going and sitting in a freezing car waiting for it to heat up." 
That's not to say he has not had challenges over the years. 
For example, early in his bike commuting days, he got caught in an ice storm and fell both on the way to work and the way home. Three years ago, the polar vortex took its toll on Duane's trusty steed. With temperatures around negative 22 without wind chill, the grease would stiffen when he stopped pedaling causing the rear wheel hub to get stuck.  
Challenges such as those just take a little bit of adaptation. Studded tires help him deal with slick roads and he discovered that hopping the rear wheel a couple times reengages the hub during the most frigid of temperatures.  
The key winter cycling, Duane says, is to wear the proper attire, especially protecting your extremities. 
"With new athletic clothing you really create your own internal climate and as long as you continue to pedal you can maintain a very comfortable internal temperature," he says, recommending wearing something to block the wind and appropriate gloves and boots. In extreme cold he wears lined pants, a balaclava for his face, ski goggles, and pogies, or cover that go over the handle bars to protect your hands.  
Aside from commuting, Duane can be found riding gravel roads, exploring B-roads, and single track trails, such as the trails maintained by ICORR off of the Tom Harkin trail head in Coralville.   
"Nothing beats riding through the woods during a snow storm on groomed trails," Duane says.